---
Markus Burger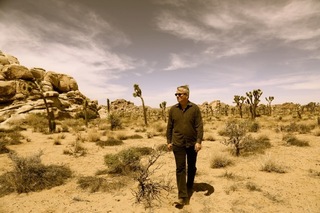 2018 New Album "We Transfer"
Markus Burger, p
Peter Erskine, ds
Bob Magnusson, b



Background
Markus Burger (born September 30, 1966) is a German pianist, composer and music educator. He works in a variety of genres, including jazz, new-age, chamber and film.
His music has been performed in Europe, the former Soviet Union, Africa, and most recently in the United States. He began studying piano at age six and later earned his Diplom in Performing Arts from the Essen Folkwang Hochschule in Germany, a B.A. in piano and Composition from the University of Maastricht in the Netherlands and a Certification in Popular Music from the University of Hamburg, Germany. He studied with Peter Walter, John Taylor, Kenny Wheeler and Kenny Werner.
He has released 11 albums, featuring his own compositions and arrangements, among them, his most recent release, The L.A. Sessions with his newly formed jazz collaborative, Accidental Tourists.
The L.A. Sessions, released by Challenge Records in 2012 (2013 worldwide), is the first of what Burger hopes will be a series of albums, and sees him launching his collaborative by teaming up with jazz veterans, drummer Joe LaBarbera (Bill Evans, Art Pepper and Tony Bennett) and bassist Bob Magnusson (Art Pepper, Bill Evans).
After months of composing and arranging, sifting through his favorite standards, and figuring out where and with whom to record first, Burger found himself serendipitously (and accidentally) launching his musical trek in his own "backyard" of Los Angeles, collaborating with the former rhythm section of his idol and early jazz influencer, piano legend Bill Evans.
In addition to Accidental Tourists, Burger has been playing to sold-out audiences around the world with his Spiritual Standards duo project, with Berlin-based saxophonist Jan Von Klewitz.
Spiritual Standards, the project, is a collection of contemporary jazz improvisations of Johann Sebastian Bach's greatest chorals and masterpieces, which at one point, made it into the Top 20 in the German Jazz charts in 1999.
The duo were also the winners of the coveted 2000 Bach Award of the city of Erfurt, Germany. His second album, The Smile of the Honeycake Horse, with his quartet Septer Bourbon, received rave reviews from the European press and Down Beat magazine in the United States, and achieved something of a "cult following" in Germany.
In developing his signature sound over the years, Burger drew his influences from a wide range of musical styles including J.S. Bach, Claude Debussy, Keith Jarrett, Thelonious Monk, Miles Davis, Pat Metheny, Elton John, Stevie Wonder and E.S.T.


Discography
1996 Fishing for Compliments Septer Bourbon
1999 Spiritual Standards with Jan von Klewitz
2000 Spiritual Standards [Secunda] with Jan von Klewitz
2001 The Smile of the Honeycakehorse Septer Bourbon
2003 Ultreya
2005 Inside.Outside with Jan von Klewitz
2006 NAJA North Atlantic Jazz Alliance
2007 Tertia with Jan von Klewitz
2007 Vesprae Ensemble Katharsis
2008 Quarta - Spiritual Standards from the New World with Jan von Klewitz
2012 Accidental Tourists: The L.A. Sessions - Markus Burger (piano), Joe LaBarbera (drums), Bob Magnusson (bass) - Challenge Records
2016 Accidental Tourists: The Banff Sessions - Markus Burger (piano), Kenny Wheeler (trumpet), Jan von Klewitz (saxophonist), Norma Winstone (vocals) - Challenge


Awards and nominations
2008: Grammy nomination for Best New Age Album, Tertia
2008: Grammy nomination for Best Chamber Music Performance, Vesprae


***
Markus Burger
Markusはドイツ人ピアニスト。現在はカリフォルニア在住。大学でジャズを教える。Jan Von Klewitzというサックス奏者とデュオで「Spiritual Standards」の活動。
Spiritual Standards official video of "The life of a peaceful soul"
「ジャズではなんでも表現できる。バッハだって例外じゃない。マーカス・バーガーの福音書より」。(サンディエゴ・ユニオン・トリビュート紙 キャム・ミラー)
もっともよく知られたコラールや賛美歌が、現代ジャズにおけるもっとも革新的でワクワクするような音楽的コラボレーションを支えている。
著名なドイツのジャズピアノ奏者マーカス・バーガーとサックス奏者ジャン・フォン・クレウィッツは、原曲の高潔さを損ねることなくバロック音楽と現代即興をブレンドしてみせる。
このデュオ(二重奏)は西暦2000年以来、世界各地を広範に演奏旅行を重ねてきた。ドイツ、スイス、イタリア、オーストリア、ウクライナ、リトアニア、フランス、ポーランド、そして最近ではアメリカ公演も行ない、その人気が高まってチケットは完売となっている。
バーガーとフォン・クレウィッツは、伝説的な作曲家の有名曲に対する革新的な解釈に対して、エアフルト市からバッハ賞を授与された。
アルバム「スピリチュアル・スタンダード」は、リリースされた2000年にはドイツのヒットチャートで20位まで駆け上がった。
同アルバムは、ドイツのザクセン=アンハルト州協賛による宗教改革500周年事業「ルターの10年」における2013年音楽大使に選出されるという栄誉も得た。
「ルターの10年」では年ごとに美術から音楽まで宗教改革におけるさまざまなテーマを設け、2013年にはヨハン・セバスチャン・バッハのドイツおよび世界中のルーテル教会に対する貢献にスポットを当てた。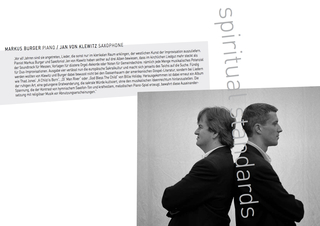 投稿者 kurosaka : 2018年2月19日